It's an unusual feeling when your ranger picks you up at the airport and you are sitting there, in the back of the open jeep realizing your first drive to the lodge you're staying at is technically your first game drive! The guards at the gate and entrance to the game reserve waved us passed the gates and that's when I had felt it...I had butterflies! Conrad my ranger and driver for while I was in Kruger, was driving very casually, it was as if we were just cruising down a back road somewhere. Not like we had just entered the lions den, quite literally.
Though in the back of my head, I knew we were probably going to see a gazillion types of dear, but every time I saw one I had my camera out and ready to take at least five shots of each one and each type. Definitely not even close to what I grew up seeing in Oregon!
I had decided months before my trip that I would be happy with whatever animals I saw, whatever they may be, however big or small. I did go into the experience hoping to see at least one baby, a baby anything honestly!
Lucky me and lucky anyone that has the opportunity to stay at a property that has a waterhole or a river or creek nearby, you'll have the opportunity to see these guys ----->
They weren't so active when they drove us up next to the waters edge, and then all of the sudden these two full on just started bullying each other. This went on for quite some time. Meanwhile behind them, a herd of elephants walk up and start drinking from the waterhole, which makes them sink back down and assume their position with just their eyes poking out above the water.
This was alllll on my first day. I was at the edge of my seat every second of each game drive.
I had no idea what the tracker was pointing at when we pulled up to two other jeeps that were parked and everyone was looking down at some rocks. I peered down at those rocks and saw that the rocks had tails, then paws...and faces. The rocks were in fact lions! A whole lot of them! I think I said something along the lines of "you've got to be freaking kidding me!" They rested there, snuggling each other, rolling in the grass and scratching themselves. Yawning these big great yawns, flashing their teeth for just a second and then back to cleaning each other. I sat still, quietly watching them, completely in awe of what sat before me. Nine lovely, licking, lollygagging, living lions.
The next day our morning was cool and crisp, the air was refreshing and it made me feel alive to be in the wild exploring the game reserve with new found friends, including the tracker and ranger. It's exhilarating really. Indescribable to those that haven't experienced this before. Our tracker pointed out ahead of us and we took off in the direction where his hand was waving us along. There was a large herd of Cape Buffalo, wandering through the grass, munching on everything that stood in their way. When our car was turned off, you could hear them stomping over the sticks, the small shrubs and bushes around them. They only glanced up at us for a few seconds, the babies were the ones that were truly interested in what we were. Otherwise the group just made their way around us, like we had an invisible shield.
I was thrilled with all of the wonderful photos that I captured in my short amount of time in Sabi Sands. I joked with people and said, "this place makes everyone look like a photographer!" But it does, it really does. The nature was simply incredible and as we all know so well, no picture truly displays how fabulous things really were when you were there living in the moment. We sat there quietly, watching this injured Rhino stand behind some brush. Letting the birds pick at him until one started to dance into his ear and he shook him off. Our tracker explained that he must have recently been in a fight, we saw marks on his face and all about his body and his back side. It was on the second day that I realized what kind of world I was experiencing out in the wild. How mother nature has created each animal with a purpose. It was gut wrenching when we came across an animal like this that was either older or injured and the tracker told us how they would soon meet their fate, either by being preyed on by lions or a pack of hyenas.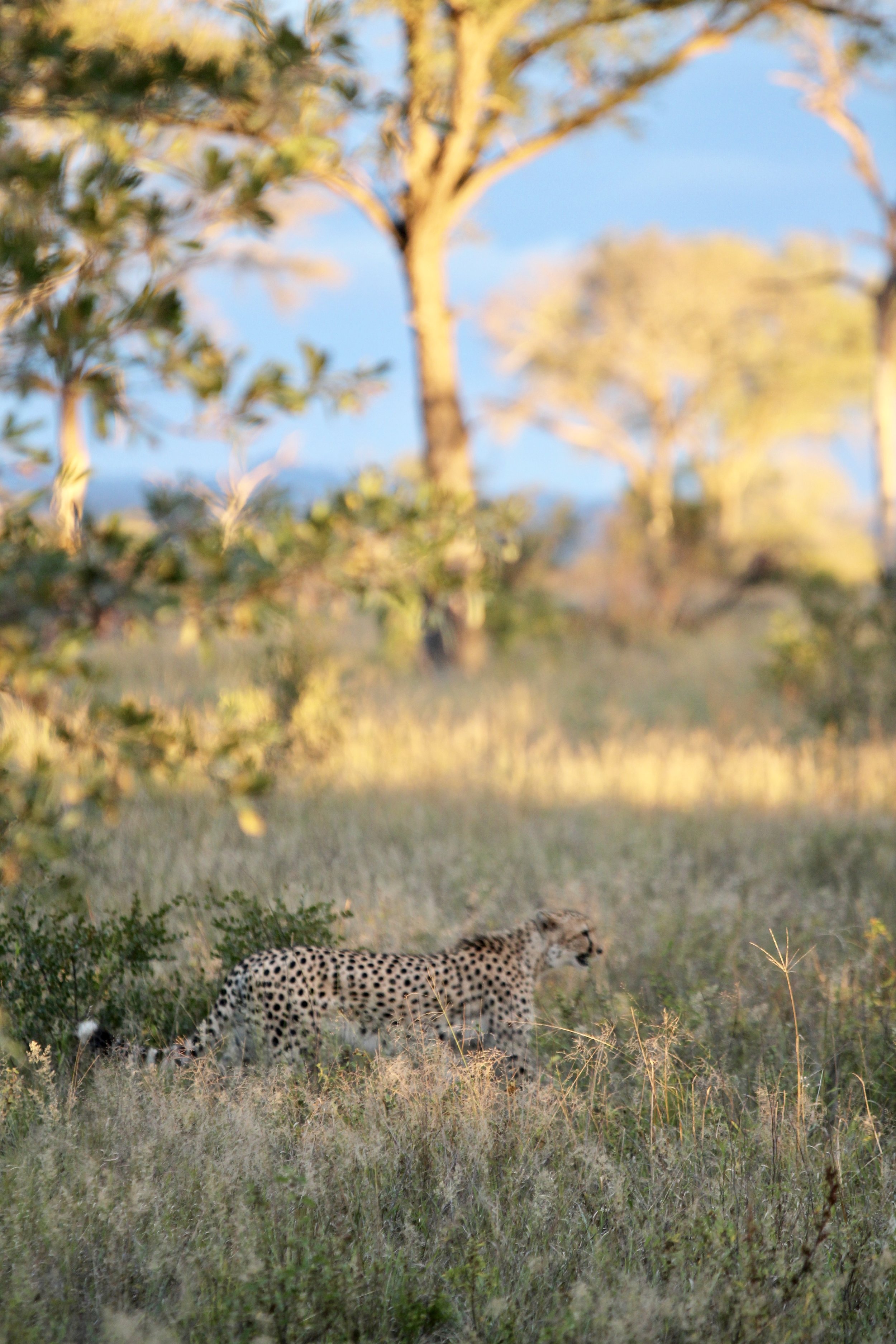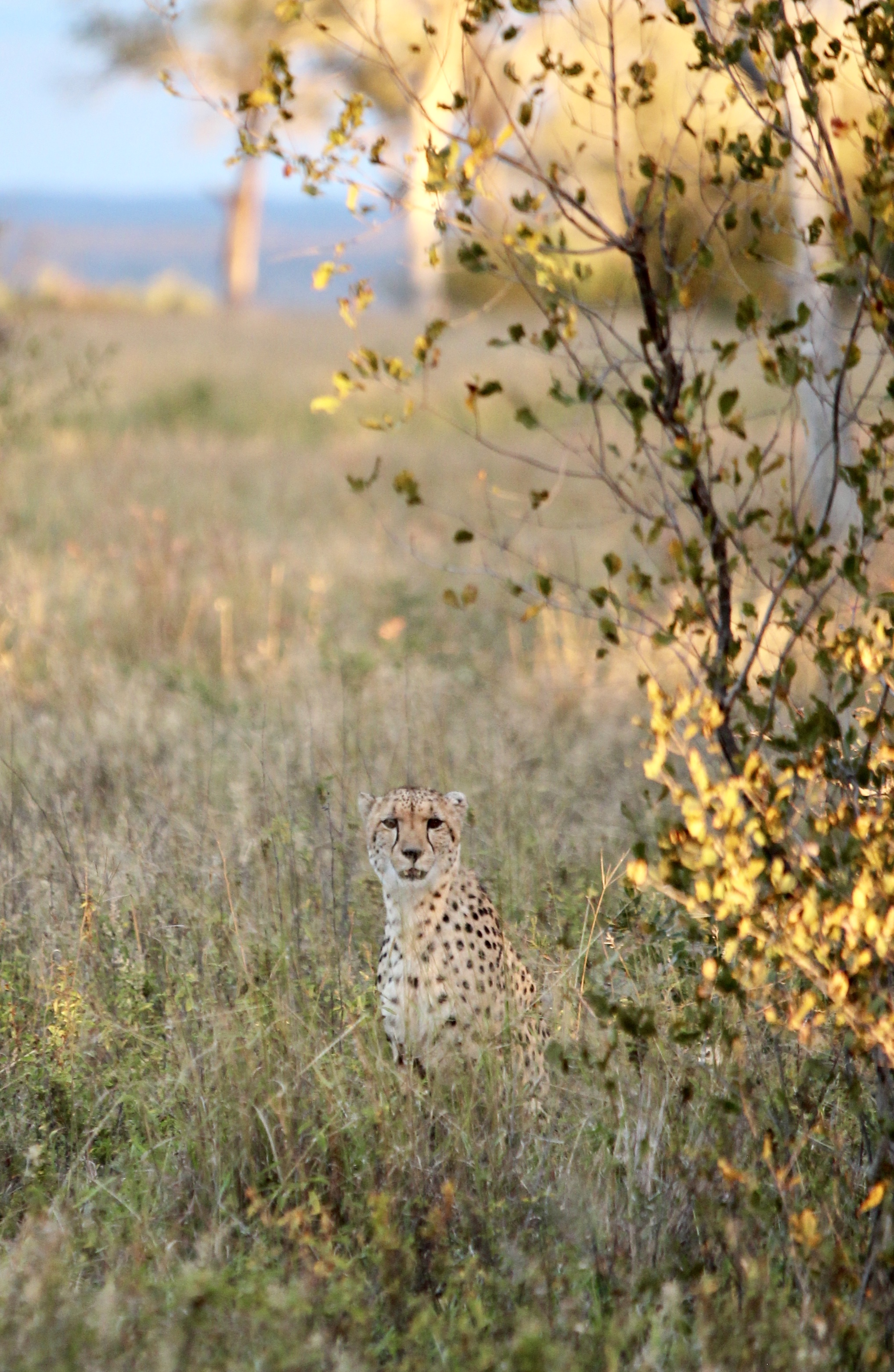 I've saved the cats/best for last! Just in case you weren't excited enough by the other animals, I figured this would make you stick around to see more. We saw the cheetah walking swiftly through the grass. I thought there was just one until it walked up to the second one and I set down my camera to take it all in. The lions were exciting to see, but they were very sleepy, whereas these cheetahs gave me all the feels! The way they cut through the grass, stopping to look around for a moment, sniffing the air, just the way my own cat does when I burn something in the kitchen.
After seeing the two cheetahs, we enjoyed sundowners in a field. We said goodnight to the sun and good morning to the moon. A gin and tonic made it's way into my hands and we sat there snacking and chatting in the twilight, until it was too dark to see if I had finished my drink or not. Which was sign enough that we should be on our way back to the lodge and on to dinner. Richard our tracker, had shown the spot light into the dark from left to right, over and over again, looking for a set of eyes to be staring back at us in the night. The wind rushed passed us as we drove quickly through the dark and my eyes were staring into the shadows hoping to catch a glimpse of something, though I knew very well that it was "a shot in the dark" haha! Get it?
Richard whispered something back to Conrad our ranger, and Conrad slowed the car way down, coming to a full stop. He all but barely put it in park when he hopped out of the car, getting our complete attention now. Conrad made his way over to a short tree, reaching into it. Toward what, none of us knew. He cupped his other hand around something and pivoted on his heel, slowly making his way back to the car. The sweetest chameleon sat stunned in his hand, eyes turning this way and that. I'm still not sure who was more stunned, this sweet reptile or all of us humans that couldn't believe Richard had THAT good of eyes to spot him! In the dark, in a tree, as we were driving quickly by!! It was a treat that our ranger was so passionate about his job, wanting to share every find that he came across with us.
This was an exciting moment for me. Okay, you're right, I've probably said that about every day on my South Africa trip. But just give me a chance to explain. We had been tracking this leopard since our first drive. It's a rare opportunity to lay eyes on a leopard and the time we got to sit by and take it all in, will be cherished forever for me! I included the photo of the leopard turned around, because the markings on its ears are just so stinking cute! The fur on this animal was so striking. It was incredible when the leopard laid down for a bit of shut eye and if we hadn't already been following him, I'd never be able to point him out. Not in a million years. The camouflage was unreal.
I think I literally held my breath when the animal made it's way toward our car. Straight toward us, never glancing up into our eyes, but I had a sense it was very aware of us and our breathing, our scents, our whispers all as he inched closer. He passed by us in an instant, like we were nothing and I was brought back to earth when the ranger said "Kelsey, no reaching out and petting this cat, please." We all laughed and watched the leopard sink through the tall grass, finding another spot near a tree to rest and take watch of his surroundings.
I owe it to Kruger National Park, because I know I am forever changed from this trip. Truly professionally and personally this was quite an eye opener for me. It's like my senses came alive and so did my purpose. It was emotional leaving this place, these animals, the staff that I quickly bonded with. I knew then as I drove away on my last afternoon in the game reserve, that Africa is a place that will stay with me forever and I must learn more about it's lands so I can share this with other travelers. Is Africa for everyone? Maybe not. But it is there for the people that care about our earth, good hearted human beings that are curious about other cultures, animal lovers, and any of you adventurous souls out there in this world that are ready to become storytellers! Because that's what Africa will make you be, you will want to tell everyone about your journey and everything that you've learned.
Reach out to me when you are ready, but do me the favor and don't wait to go on this trip when you're retired or when you can go all out with everything 5 star. There are many sides to Africa and there are many ways for you to enjoy it!