Usually when I start a story with "I felt like I was in a movie!" I mean more of the comedy type. This was something else entirely. After a 30 minute drive from the Johannesburg airport, a quick check in with the gate guards, my driver took me up the driveway, through groves of trees, branches hugging each other overhead making the most lovely of entrances. I leaned forward in my seat, peaking ahead, ready to take in the first glimpse of the Saxon. I believe I said "holy…moly." My driver said, "yes madam, it's one very beautiful place, I think you will enjoy yourself." Please read that last quote with the sweetest South African accent possible. Even he was smiling when he said it.
I arrived early in the morning and the hotel was quiet. I sat out on their terrace waiting for my room to be ready, sipping cup after cup of wonderful coffee. Mostly just because I could and I also knew I would need the energy when trying not to nap later. The staff had come by a second time, asking me if I was sure I didn't want a blanket or a heater nearby my table. I laughed because the weather was absolute perfection. Just a light crispness was still hanging in the air, but you could tell the day was still just heating up. For them, the locals...this was chilly!
I did a quick 30 minute work out in their beautiful gym, which is not how I would describe the gym I go to normally. Afterwards, I walked passed their pool, which tempted me to take off my sneakers right there and to just jump in. I resisted and checked into my suite. Yes, you heard that right, because The Saxon is an all suite hotel. Each of them have a sitting area with large over stuffed chairs, a desk, a terrace or balcony, large king size beds and the bathroom of your dreams. At least the bathroom of my dreams!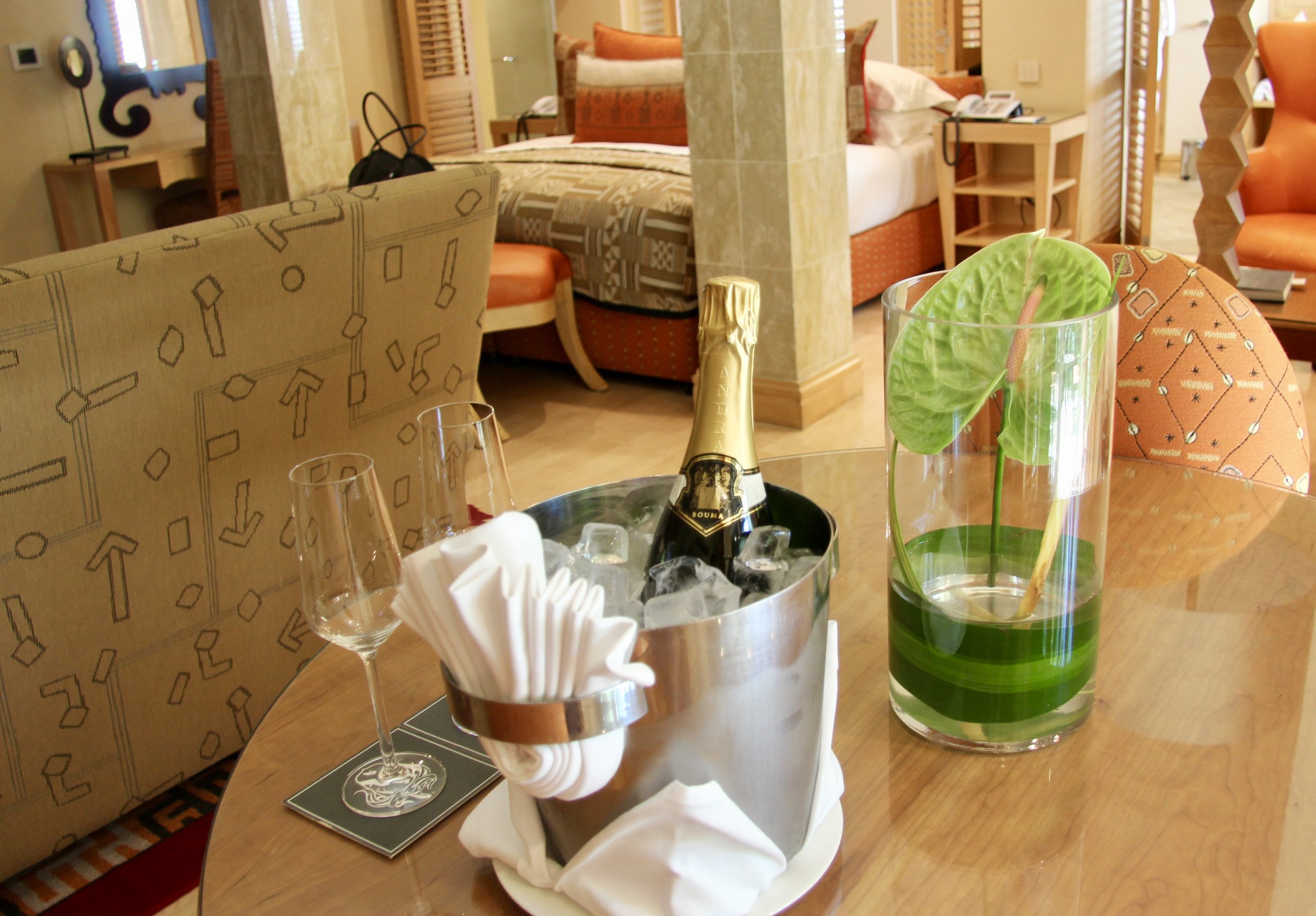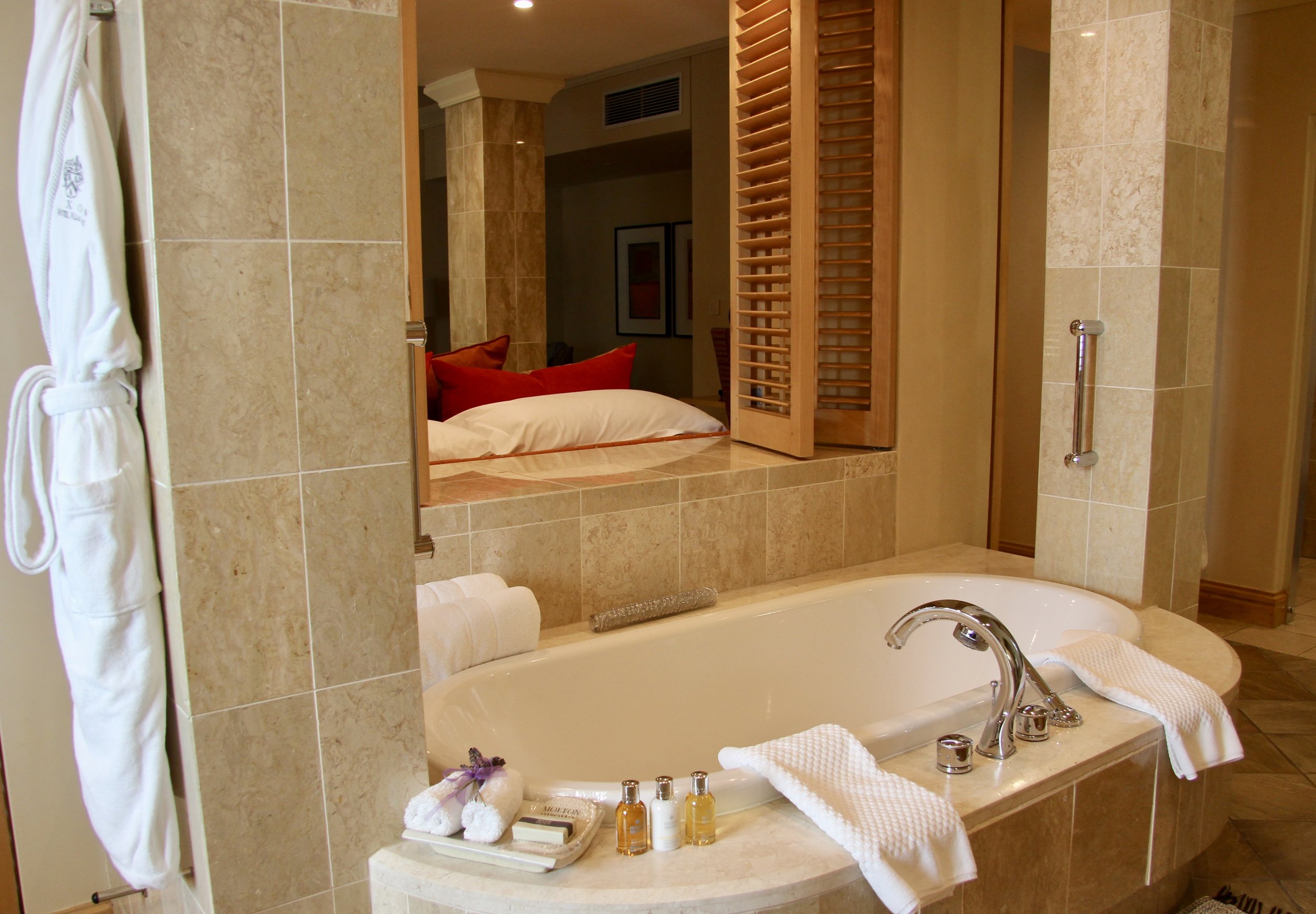 With this property having a fabulous spa, two restaurants, a bar, the swanky cigar lounge and several different outdoor seating options...I can see why people may just want to add an extra night here to enjoy the hotel and all that it has to offer.
Though you can get a little bit of an idea of what the hotel and it's gorgeous grounds are like from my photos, what I would really like to shine some light on, is the service level of the hotel. Whoever trains the staff at the Saxon, they do a vey good job, it's something that really stuck with me after I left the hotel. I was always asked if I needed anything, asked if they could assist me with my bags, they even asked if they could carry my drink from breakfast back to my room for me. These genuine and warm smiles from the staff made me settle in very quickly. Staying in a hotel like this, it could easily go on the stuffy side of things, but the servers, the front desk agents, the room attendants, they are the ones to bring life to this property.
I know some interior designers that would go absolutely crazy for these details- crazy in a good way of course!
This was the first hotel that I stayed at during my time in South Africa. I specifically remember saying to my mom on skype, that this was either the best start to a really good vacation or the worst start, because how could other hotels be as fabulous as this one was to me?! I look forward to sending clients to this hotel and I am confident that they will be well taken care of, just as I was.